Ellipses are more complicated to define than circles: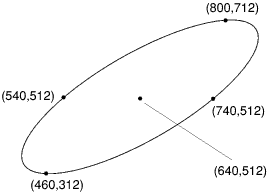 To plot the above ellipse, the following information is required:
the centre point
an outermost point (either to the right or left) at the same height as the centre
the highest or lowest point of the ellipse.
For example, to draw the ellipse above, you could use:

MOVE 640,512 :REM the centre
MOVE 740,512 :REM the righthand point
PLOT &C5,800,712 :REM the top point

or alternatively:

MOVE 640,512 :REM the centre
MOVE 540,512 :REM the lefthand point
PLOT &C5,480,312 :REM the bottom point

Note that only the x coordinate of the second point is relevant, although for clarity it is good practice to give the same y coordinate as for the centre point.

The following example creates a pattern using a number of differently shaped ellipses:

10 MODE 0
20 FOR step% = 0 TO 400 STEP 25
30 MOVE 640,512
40 MOVE 215+step%,512
50 PLOT &C5,640,512+step%


60 NEXT step%

Solid ellipses are drawn in the same way using the plot codes &C8 to &CF.

The BASIC ELLIPSE keyword provides an easier way of specifying rotated ellipses.