Normally, text may appear anywhere on the screen. However, you can define a text viewport, which allows the text to appear only inside the viewport. To set up a text viewport, use the VDU 28 command as follows:
VDU 28,left,bottom,right,top
where left,bottom is the bottom lefthand and right,top the top righthand position inside the viewport given in text coordinates: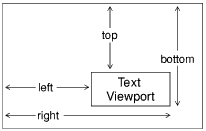 Nothing outside the text viewport is affected by text statements, such as CLS to clear the text screen, or screen scrolling. Note that TAB(X,Y) positions the text cursor relative to the position of the top left of the current text viewport. The following program demonstrates how text viewports behave:
 10 MODE 1
 20 REM Set up a text viewport 6 characters square
 30 VDU 28,5,10,10,5
 40 REM Change the background colour to colour 1 (red)
 50 COLOUR 129
 60 REM Clear the text screen to show where it is
 70 CLS
 80 REM Demonstrate scrolling
 90 FOR N% = 1 TO 20
100   PRINT N%
110 NEXT N%
120 REM Show position of character (2,3)
130 PRINT TAB(2,3);"*"
140 END
To revert back to having the whole screen as the text viewport type
VDU 26
The precise actions of the VDU 26 command are as follows:
Restore text viewport to the whole screen
Restore graphics viewport to the whole screen
Home the text cursor
Restore graphic origin to bottom left of screen
Home graphics cursor to (0,0).