www.riscos.com Technical Support:
RISC OS 3 User Guide





RISC OS 3.7 User Guide
---
25 - CloseUp
---
CloseUp acts like a magnifying glass. It displays a magnifying window on the screen which allows you examine portions of the desktop in greater detail.
Starting CloseUp
| | |
| --- | --- |
| | CloseUp is in the Apps directory on your hard disc or network. To start the application, double-click on the !CloseUp application icon. The application icon will appear on the icon bar. |
Click on the CloseUp icon on the icon bar icon to start the magnifier. You will see the magnifier on the screen. The CloseUp window simply shows a magnified portion of the desktop that is currently under the pointer. Move the pointer to see another area of the screen.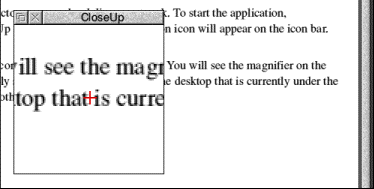 CloseUp options
| | |
| --- | --- |
| | Click Menu on the CloseUp icon bar icon to display the following options. |
---
RISC OS 3.7 User Guide - 22 JAN 1997





This edition Copyright © 3QD Developments Ltd 2015
Last Edit: Tue,03 Nov 2015