Filer
With RISC OS Six, the Filer Configuration options have been separated into six separate panes - Layout, Automatic Layout, File Operations, Interaction, Name truncation and Thumbnailing. Click Filer to open the first window, Layout.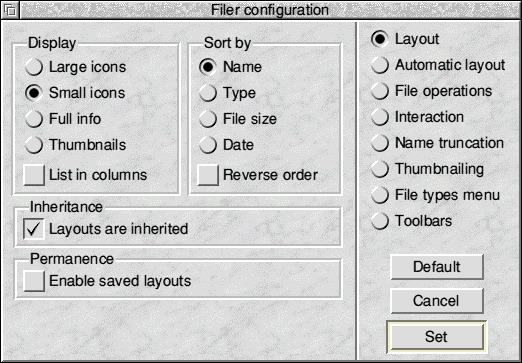 The Display and Sort by sections work just like that within the Filer menu and set the default way that files are displayed. For example you might like to always have large icons, or you might like all Filer windows to display full information about all files.
Inheritance enables Filer windows to inherit the display properties of their parent window as you navigate through directory structures.
Permanence allows saving of a particular layout for a given directory, so that the directory will always default to that saved layout when opened. This is expected to be used rarely, given the Automatic and Inherited layout settings that were introduced in RISC OS 6.10 will cover most needs.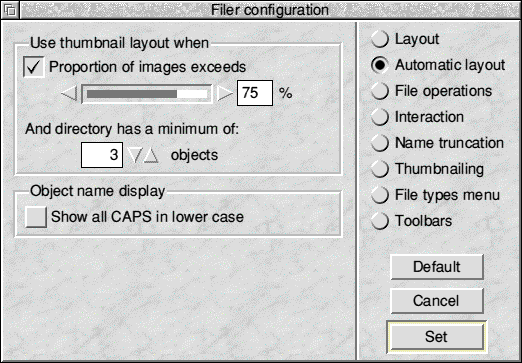 The Automatic layout window gives you control over whether and how thumbnail images will be displayed by Filer automatically and whether to display filenames which are all uppercase, as lowercase.
Automatic display of thumbnails allows you to set your preferred display type for normal use, but intelligently display pictures when this is most likely what you would want to see.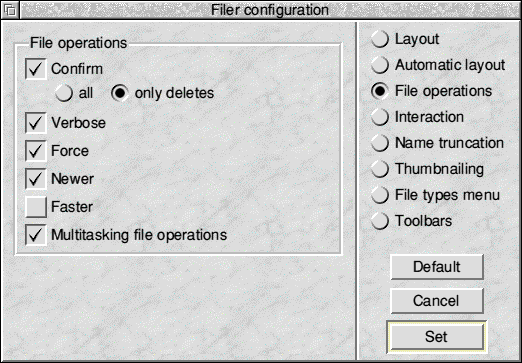 The File Operations window also works in the same way as the filer menu within RISC OS. it allows you to control the Filer Information window that pops when you work on files (copy, delete etc). For example you can set RISC OS to always confirm before deleting a file, or to confirm all filer operations.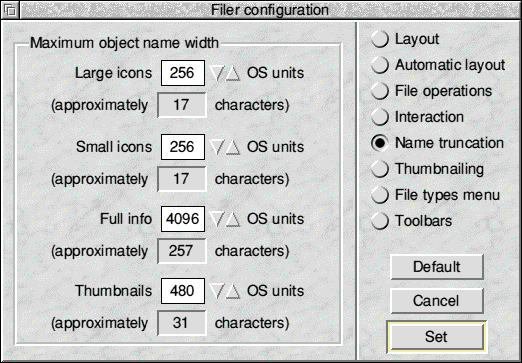 The Name truncation window allows you to set the length assigned for file and folder names in Filer windows. If you often use long names you may wish to increase this, but it affects the spacing between objects in a directory viewer so the more space assigned the further apart they are and the less will be seen at once in any given size window.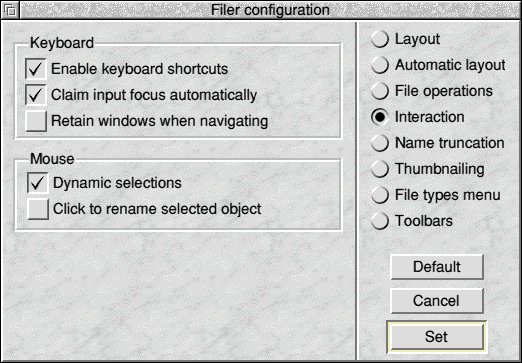 The Interaction window provides control over keyboard and mouse operations within Filer.
Keyboard
Enable keyboard shortcuts - Activates use of the keyboard within Filer and also causes menus to display the keyboard shortcut hints.
Claim input focus automatically - this allows Filer windows to claim keyboard input as they are opened. If disabled, you will need to click Alt+SELECT to gain focus.
Retain viewers when navigating - when this is enabled, pressing Return on highlighted objects within Filer will simulate a double click of the SELECT mouse button. If inactive, Return will simulate double click of ADJUST and thus close Filer viewers.
Mouse
Dynamic selections - the filer window will be updated as you drag across to select files.
Click to rename selected object - if this is enabled you can rename a file that is already selected by clicking on the file's name with SELECT. If disabled, you can still use Alt clicks to rename files.
To see the effect of each on the filer, click each in turn then 'Set'.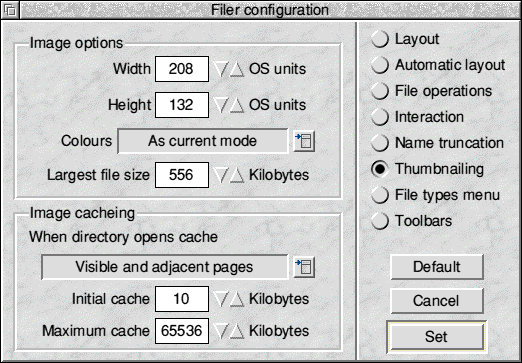 With RISC OS Six, you can now view thumbnails of graphics within a filer window. The Thumbnailing options window allows you to decide the width and height of the image, the number of colours that should be displayed and the largest size of image to display. Using a thumbnail filer display will increase memory usage as the thumbnails need to be stored. In addition the first time a filer window is opened there will be a very slight delay as the thumbnails are drawn and cached. In order to display the thumbnails at a sensible size the filer windows will also become slightly larger.
File types menu allows customisation of the menu from which you can select file types for selected files.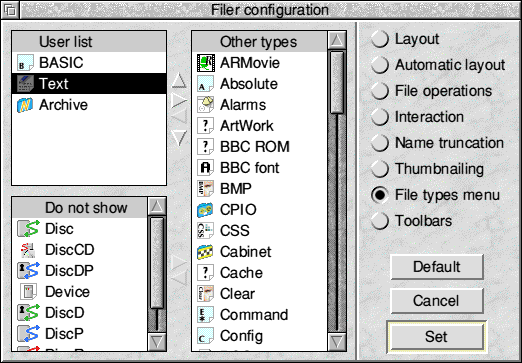 User list allows you to specify those types you commonly use and places these at the top of the types sub-menu.
Do not show is for removing those types you would never use, from the menu. RISC OS uses some types internally and there are a number of these for which it makes no sense to use for your own files. Using this feature allows you to effectively shorten the file types menu.
Other types displays all detected file types that are not in either of the other two lists.
In the gaps between the lists, there are direction arrows which allow movement of types between the lists. The up and down arrows allow control of the order in which types appear at the top of the file types menu.
Toolbars are an optional feature of Filer and can be managed with the Toolbars page of Filer configuration.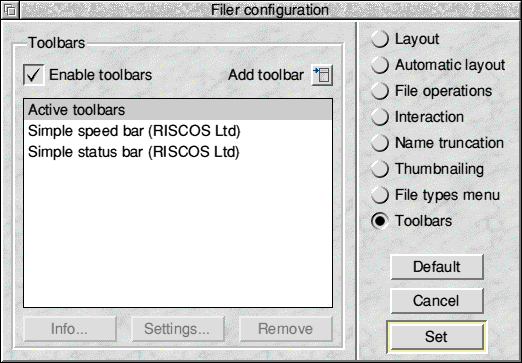 Active toolbars shows any currently configured toolbars. These will be used by filer if Enable toolbars is selected when Set is clicked.
Add toolbar allows you to add toolbars to the currently configured set from those which have been installed. New toolbars are installed by dragging and dropping them onto the Toolbars page of the window.
Info and Remove are only active when a toolbar is selected. These provide information about the selected toolbar, or allow its removal from the active set respectively.