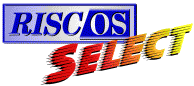 RISCOS Select Introduction
In the two years since we took over the development of the desktop version of RISC OS there have been major changes in the RISC OS marketplace. RISCOS Ltd is adapting to those changes and RISC OS Select is the first result of those changes.
26 bit versions of RISC OS under the project name of RISC OS 4.5 will in future be supplied on a yearly subscription basis.
This is similar to the way that yearly maintenance and upgrade schemes are provided for other major software packages.
From now on RISC OS will be updated on a rolling basis, instead of releasing a major upgrade every couple of years. The important point to note is that there is no target for a "Final" release version of RISC OS, since technology and user requirements will very much dictate what features are, or are not, added to new versions of RISC OS and hence the RISC OS Select Scheme is deliberately intended to be fluid in nature.
It is also very important to note that RISC OS Select is a personal subscription meaning that you may install the software provided under the scheme onto any machines which you or your family (who are resident at the same location own). If you have 3 machines at home you do not have to take out 3 RISC OS Select Subscriptions. If you are a company with greater than 10 machines then a special price applies.
The advantage of the scheme is that the timescale for fixing bugs and offering new features will be significantly decreased.
Many people who heard about the Scheme at the Wakefield Show have been concerned that with the Operating System being soft loaded that it would therefore be prone to virus attack. We would like to point out that using the Select Scheme components does not mean you have to remove the current physical ROM's from the machine and hence in the unlikely event of problems with the new ROM image you will always be able to return to using the original RISC OS 4 settings.
Future components of RISC OS will be released in two formats:
1. ROM images which can be soft loaded to replace the existing physical ROM's 
2. Individual modules that can be loaded as part of the Boot sequence.
The new ROM image and modules can be stored on local Hard Disc, on a Network, or loaded directly from CD. Part of the new ROM image boot sequence will provide the option to choose which medium you wish to boot from, so that you may for example wish to keep a backup of your usual Boot sequence on CDR and then install the new RISC OS Select ROM image and Boot sequence onto your main hard drive. All Subscribers to RISC OS Select will receive up to 3 CD's per year i.e. one CD approximately every 4 months. The CD will contain both Beta software and official release versions. It is anticipated that components which are issued as Beta on one CD will become official releases on the next CD. Interim components will also be available from a password protected area of the new RISC OS Select Web Site. The scheme is suitable both for users who want to be sure of receiving the latest fixes & official releases and also for users who like to have the latest experimental modules & features.
(Subscribers to RISC OS Select will be provided with a method whereby they can choose to just install the release components or else they can try out the latest features, knowing that they can restore to a known working set-up at any time. To do this each Select CD will contain a "safe" boot image with all the released upgrades and patches pre-installed as a working disc image.) N.B. Users will have to initially purchase RISC OS 4 in ROM either as an upgrade from RISC OS 3.5/6/7 or else as an integral part of a new computer.
It will NOT be possible to soft load RISC OS Select packages onto anything other than RISC OS 4.
---