RISC OS 4.39 has brought into the operating system for the first time a recycle bin function. Integrated into the operating system, just as Windows XP and Mac OS X have their own integrated trashcans, its control window is available by clicking Recycle bin. The window opens as shown.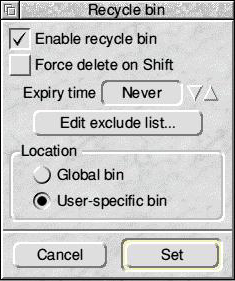 The 'Enable recycle bin' option needs to be ticked if you wish the Recycle Bin (or Recyclone as it's known) to be active.
With 'Force delete on Shift' enabled you can bypass the recycle bin by holding down the 'Shift' key when initiating a delete.
The 'Expire time' is the length of time for which data should be stored within the Recycle Bin before being automatically deleted. This can be anything from a day to a thousand days.
The 'Edit Exclude List' option allows you to prohibit the recycle bin from working with any given operating system. Whether it's IDEFS or SCSIFS, and for whatever reason, using the format given in the example file you can ensure that any given filing system will always delete files directly rather than send them to the recycle bin.
Finally the 'Location' section allows you to specify whether the recycle bin should be global or on a per-user basis.
The 'Cancel' option will cancel any changes you've made, while 'Set' will confirm them.