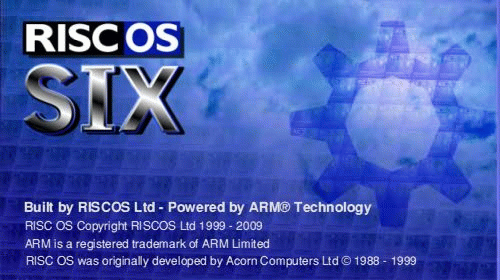 RISC OS 6 User Documentation
Introduction
RISC OS Six is the latest version of the operating system to be supplied by RISCOS.com. RISC OS 6 is currently suitable for RiscPC, Kinetic RiscPC, A7000, A7000+ and VirtualAcorn products.
RISC OS Six is built from 26/32bit neutral sources, which means that RISCOS.com can make either a 26bit version for older machines and for VirtualAcorn products, or a 32bit version for newer machines such as the A9. This version of RISC OS is 26bit only and will not work on 32bit machines.
About the documentation
This documentation is designed for RISC OS 6.20. Later versions of RISC OS may have additional features not covered in this release of the documentation. Earlier versions of RISC OS may have configuration options that differ from those documented here. You can find out which version of the operating system you are running from the Task Manager icon on the RISC OS iconbar. Click Menu over the Task Manager and go to the Info option on the menu. Go past the arrow and you will see which version of RISC OS you are running.
Acknowledgments
This documentation was prepared by Aaron Timbrell and David Holden. Some parts are based on earlier works. The User Guide section is based on First Steps With RISC OS as published by Alligata Media. The RISC OS configuration section is based on a series of articles published in RISCWorld magazine. The Applications Guide is based on the style of the original Acorn Computers Applications Guide as supplied with RISC OS 3.
Updates and additions to the documentation have been provided by the RISC OS developers.
Main Index
Using RISC OS Six
The RISC OS Six application suite
Configuring RISC OS Six
Diversions
Appendix