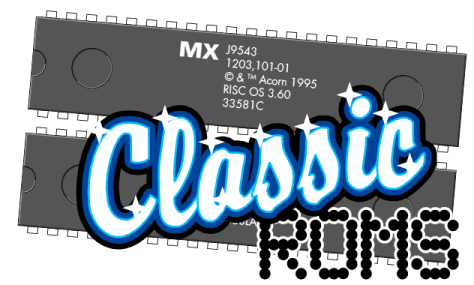 The Classic ROMS collection brings together a fully licenced collection of ROMS for both Arthur and RISC OS. The collection covers the entire range of 32 bit ARM (Acorn Risc Machine) computers developed by Acorn Computers Ltd. From the first version of the A310 right up to the StrongARM RiscPC all of the Acorn ROMs are included:
Arthur 0.30 (Early A305 and A310 computers)
Arthur 1.20 (A305, A310, A420 and A440)
RISC OS 2.00 (A3000, A440/1)
RISC OS 2.01 (A540)
RISC OS 3.00 (Early A5000)
RISC OS 3.11 (A3010, A3020, A4000, A5000 and A4)
RISC OS 3.50 (RiscPC)
RISC OS 3.60 (RiscPC and A7000)
RISC OS 3.70 (StrongARM RiscPC)
RISC PS 3.71 (StrongARM RiscPC and A7000+)
Each version of RISC OS (and Arthur) is supplied complete with:
RISC OS ROM image.
Appropriate Boot sequence.
Standard set of RISC OS applications.
RISC OS utilities.
Instructions for Red Squirrel, ARCem and RPCem.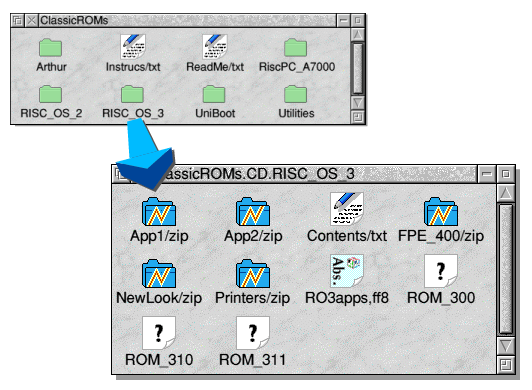 Everything is supplied in RISC OS format zip files which include the special Acorn filetypes. Although mainly intended for emulators the various disc builds and other files can also be used on the appropriate Acorn computers to replace missing or corrupted disc contents.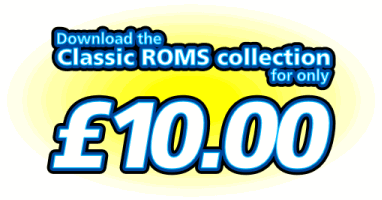 Important Notes
The original Acorn computers used either 2 or 4 physical ROM chips. For use with emulators these ROM files have been merged back into one contiguous ROM file. For full details of how to install a copy of RISC OS and an appropriate disc build into an emulator see the included instructions.
If you are already running an emulator or intend to transfer one of the disc builds to an Acorn computer DON'T try to extract the contents of the Zip files unless you are doing so within RISC OS, otherwise you will lose the essential RISC OS filetypes.