Important Information
We supply a range of new, reconditioned and pre-owned computer hardware suitable for use with computers that run RISC OS. We don't normally supply complete computers only computer components. In order to use these products they will need to be fitted to a computer by someone with suitable expertise. All items are sold mail order, we do not accept callers so it won't be possible for a customer to pick up an order.
Product Information Grading Installation Support Guarantee Substitution
1MB VRAM module for RiscPC

A standard 1MB VRAM module for the RiscPC. Fitting VRAM to a RiscPC allows the machine to display higher resolutions with more colours. In addition the video circuitry will switch to a higher clock speed making the entire machine noticably quicker.

Now in stock - £15.00 (Plus P&P)
---
Detailed information
Standard size 1MB VRAM module for use with RiscPC.
RiscPCs can be fitted with either 1MB or 2MB VRAM modules.
Soak tested by 3QD Developments Ltd with test date on packaging.
Manufacturer : Various
Condition : Reconditioned
Designed for : RiscPC
RISC OS version : n/a.
---
Product grading
Acorn Computers Ltd closed its doors in 1998 so, as you would expect, the Acorn branded hardware we supply is pre-owned rather than new. Items that are were not made by Acorn Computers Ltd but that are 'Acorn compatible' may be new, pre-owned or reconditioned, the grading will be shown with the key information for the item. The full grading listing for the hardware products we sell is:
New - a product that has never been made available for retail sale, is boxed with all packaging and contents.
New Old Stock (NOS) - a product previously held by a dealer but not sold to a retail customer. Packaging may have scuffs, contents will be unused.
Reconditioned - a pre-owned product that has been cleaned, inspected and tested by APDL. May have signs of light use. Supplied in non-original packaging, may lack instructions.
Secondhand - a pre-owned product that has been tested but has clear signs of use. Supplied in non-original packaging, may lack instructions.
Spares/Repairs - a product from the above categories that is either incomplete or does not operate correctly. May not have any instructions or original packaging. Sold as seen with no guarantee as to fitness for purpose.
The section New Old Stock (NOS) deserves a little explanation. In many cases components may be, in all normal sense of the word, 'new' but because they have been previously held by a dealer and then sold to another dealer they are classed as 'secondhand' in the EU. For example we have stocks of three button Acorn compatible mice that were manufactured in the 1990's. These were supplied to a dealer but were never sold. The dealer then sold them as 'job lot' to another dealer. This dealer then sold them to APDL and when APDL closed we obtained the stock. These mice have been sold several times over, but the boxes have never been opened and the mice have never been used.
Installation
We are a small mail order company and we are not able to offer an installation service for products we sell. It will be the responsibility of the purchaser to install and configure any products purchased from us. If you do not feel confident about performing the installation yourself you can contact one of our registered installers who should be able to assist.
Some hardware devices will require driver or support software. This will be supplied either on RISC OS format floppy discs or via a download link at the time of purchase.
Technical Support
All products (except those marked as spares/repairs) are sold with phone/e-mail support for a minimum of six months from the date of purchase. We will only offer support for products that have been purchased from us (3QD Developments Ltd). This support will only cover the normal use of the items purchased. If you are buying a hardware upgrade it will need to be fitted by someone with the necessary skills. We won't be able to talk you through disassembling a computer to fit an upgrade, but we will assist if you have correctly fitted an upgrade and it's not working.
Support Documents
The following support documents apply to this device:
Notes:
The RiscPC can support 0, 1MB or 2MB of VRAM. If no VRAM is fitted to a RiscPC a part of main memory is used for the frame buffer and the VIDC20 runs at a lower clock speed. The speed difference between a RiscPC with no VRAM and a RiscPC with VRAM is very noticeable. If your RiscPC is fitted with a StrongARM processor 1MB VRAM modules may not operate correctly.
You will have to disassemble the RiscPC to fit the VRAM SIMM. If your RiscPC has expansion podules these will need to be temporarily removed to gain access to the socket.
Fitting location RiscPC motherboard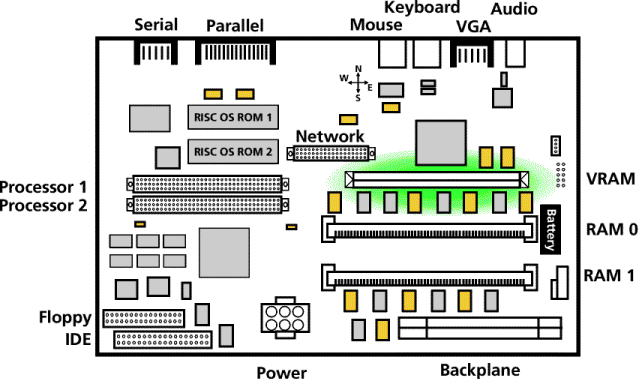 Guarantee/warranty
The Consumer Rights Act 2015 (effective 1st October 2015) states that all products must be as described, fit for purpose and of satisfactory quality. All of our products comply with these regulations. As many of our hardware products will be pre-owned they may not have as long a life span as a brand new device and this will be reflected in the price we charge. We offer a 6 month warranty on hardware. If a product fails after the 6 month period it may still be covered by our warranty if the failure is down to an inherent fault.
If you do need to return a product please contact us first to arrange a returns number. We will test the product once it's been returned to us. If it's faulty and inside the warranty period we will either replace it or offer a refund depending on how long the product has been in your possession. If the product doesn't work because it's been damaged or misused we will not replace it or offer a refund.
For full details on our guarantee and warranty click here to read our full terms of business.
Substitutions
In very rare cases we reserve the right to supply a substitute Reconditioned or Secondhand product rather than the product shown. We will only ship a substitute product if it offers the same (or better) functionality as the item originally ordered. For example: we may send a RiscPC network interface that's made by a different manufacturer. You may request that we don't ship any substitute products by contacting us before placing an order.